Research Program
Overview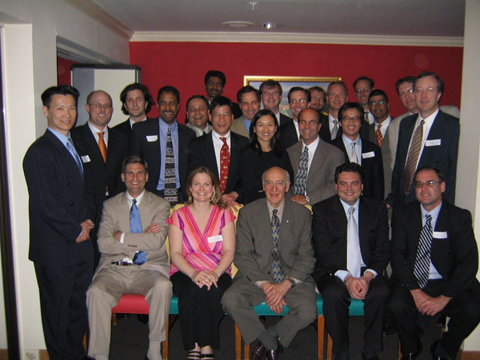 Reunion of Transplant & HPB Fellows with Dr. B. Langer, Washington 2004.
Transplantation is an academic discipline and the Fellows are expected to contribute to our understanding of transplantation and advance the field forward through their research, which is conducted under the supervision of our Staff Surgeons.
Most Fellows choose to work in clinical outcomes-related research activities, although many basic science opportunities are available (see below). The second year of the Fellowship may be modified to facilitate basic science research.
Clinical
Prospectively maintained clinical databases are available to Fellows for studies in liver transplantation, living donor liver transplant, hepatocellular carcinoma, pancreas transplant, DCD, and kidney transplant. The HPB database and the NSQIP-HPB data are also available for analysis. Expertise in project design and analysis is available from all staff.
Basic
Laboratory-based research is available in:
Ischemia/reperfusion - Dr. Selzner
Toronto Preservation Injury Laboratory
PI: Markus Selzner, MD
The Toronto preservation injury laboratory is focused on (sub)normothermic ex vivo liver and kidney perfusion for the storage, assessment, and repair of marginal grafts. In a large animal model of pig liver and kidney transplantation we explore the impact of warm perfused preservation on graft injury and function. During warm ex vivo organ perfusion the grafts have an active metabolism. This allows for the first time to assess graft function during the preservation period prior to transplantation. We aim to identify biomarkers predicting graft function and injury during ex vivo perfusion to safely extend the donor pool with marginal grafts. In addition, the technique of warm perfused organ preservation offers the opportunity for graft repair and modification. Improving marginal grafts, inducing resistance against viral infections, and modulation of immune response are new avenues of graft treatment during the ex vivo perfused preservation.
Stem cell biology – Dr. Ghanekar
Role of Stem Cells in Diseases of the Liver
PI: Dr. Ghanekar
My laboratory is located in the MaRS complex and has active collaborations with senior investigators in
transplantation (G. Levy), stem cell biology (G. Keller), and cancer biology (J. Dick). We utilize state-of-the-art
techniques in molecular and cellular biology, as well as small animal models.
Current Research
1) Elucidating the role of cancer stem cells in the pathogenesis of human hepatocellular carcinoma
We are utilizing human HCC resection specimens to generate in vivo models of primary human HCC by
generating tumor xenografts in immunodeficient mouse strains. We are also developing methods for
stable in vitro culture of primary human HCC cells. We anticipate that these resources will permit the
identification and characterization of tumor initiating cells in human HCC.
2) Studying the pathophysiology of a variety of human liver diseases through the use of induced pluripotent
stem cells
We are interested in studying the developmental biology of human liver cell populations (hepatocytes
and cholangiocytes) through the use of embryonic and induced pluripotent stem cells. We are interested
in studying the differentiation potential of induced pluripotent stem cell (iPS) lines generated from
patients with diseases of liver development in order to elucidate the mechanisms by which liver
development is affected.
Nanotechnology, genomics/proteomics – Dr. McGilvary
Dendritic cell biology – Dr. Cattral
Education – Dr. Moulton
Liver Cancer Research Group - Dr. Sapisochin
Liver Cancer Research Group
PI: Gonzalo Sapisochin, MD
The Toronto Liver Cancer Research Group focuses on clinical prospective and translational research in the field of liver malignancies. The Group's aims are to create, implement and coordinate studies related to clinical outcomes within this field.
Currently, The Group has several ongoing projects involving hepatocellular carcinoma, cholangiocarcinoma and colorectal liver metastases. Clinical fellows are welcome to participate in ongoing protocols and/or start new protocols. Additionally, full-time dedicated positions are available for Research Fellows. Participation in national and international conferences and publication in peer-reviewed journals are highly encouraged. Experts in clinical epidemiology and statistical methodology also support the Group.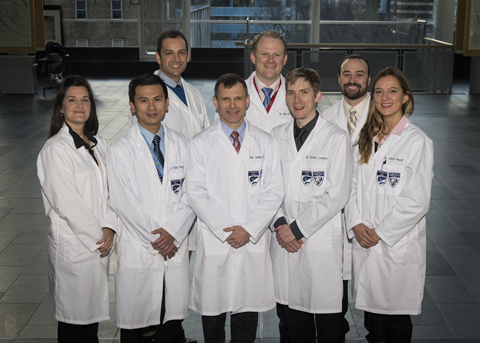 Transplant & HPB Fellows, 2013.
Fellows are expected to identify one or two areas of research in the first year, have an abstract submitted to a National or International Congress for presentation in the spring of their first year and complete 2 – 4 manuscripts in the second year.